Boat Diver
The PADI Specialty Boat Diver


Whether you've never dived off a boat or already seen dozens of boat dives, the PADI specialty course Boat Diver is useful for almost any diver, as you dive with different boats in all parts of the world and different techniques are required.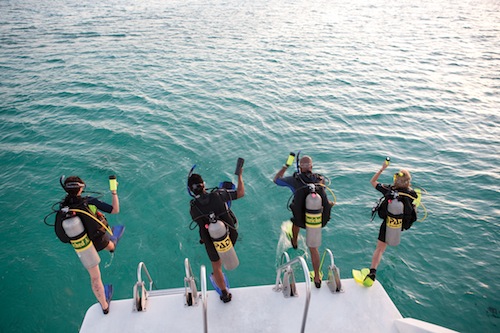 The fun factor: strong> span>
Diving from the boat is fun, especially if you look casual. Furthermore, it is a pleasure to know exactly what you are doing.


Course Content: strong>
Learn the tips, tricks and ways:
Learn to dive from all boats, from small dinghies to huge dive safari boats:

Find out how they differ from place to place.
Expand your experience and practice diving in boats around you.

See all about safe entries and exits:

Sometimes it's better to put your diving equipment on board first and then get on the boat.
Sometimes you just dive fins and lead weights and climb the ladder.

li>
To store diving equipment in suitable locations.
To properly use surface guides to ascend and descend.
To locate basic safety features on the boat.
You can also learn more activities and ideally combine with Peak Performance Boyancy, such as the Specialty Course Program Digital Underwater Photography . The possibilities are limitless, because in almost all waters of this earth you can experience great dives and all these waters deserve to be protected by good buoyancy for future generations.
From 10 years
Duration 1 day, 2 dives
€ 209,- incl. rental equipment, plus certification € 35,- p >