dive card with diving accident insurance
Important Information!

Every diver needs to know:
 
1. Diving medicine is a specialty that many doctors deal with
not deal with frequently and therefore especially in more complicated cases
can't make the right decisions.

2. Most health insurance companies no longer pay for pressure chamber treatments!
This means that divers in an emergency face the often very high cost of such therapy
have to wear themselves! So it is important that every diver insures himself in these cases.
It doesn't matter whether you do this through organizations like DAN or with us.
Of course we would be happy if you choose aqua med and we have it
good arguments, compare yourself: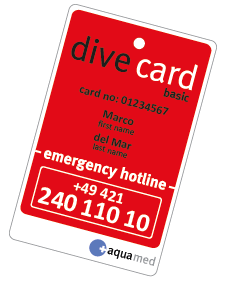 · With the dive card you have access to our medical and diving medical emergency call, whose doctors have many years of experience in emergency management.
· With the emergency call service, you immediately have the emergency doctor on duty on the phone (so it is not a call center). The doctors help around the world and around the clock.
Important medical data e.g. the blood group or allergies can be deposited with us (of course voluntarily and with medical confidentiality), so that they are immediately available to the doctors in an emergency.
· Aqua med has a logistics system that organizes and coordinates everything from transport to the hospital to pressure chamber therapy.
· The dive card contains a complete diving accident insurance.
· Pressure chamber costs are borne worldwide indefinitely, so of course also in the home country.
The dive card includes full travel health insurance abroad, so it applies e.g. also for other holidays abroad (you do not need any extra travel health insurance).
You will receive a waterproof, signal red card, which you can attach to your diving equipment using a pre-cut hole. So the dive card with the central emergency number is immediately recognizable for everyone in an emergency. (Because what uses an emergency card in your wallet ?!)
· All this costs only 49, - € a year! · Family members who do not dive can receive the international health insurance and worldwide emergency service as an additional card for € 29 a year (without diving accident insurance).
· If you are a diving instructor, the dive card professional for 149, - € also includes the important diving instructor liability insurance (recognized by PADI Europe).

Please compare yourself and have a look at the aqua med homepage (www.aqua-med.de). But remember in any case: you should definitely protect yourself! You can register at any time by filling out the application form provided here and sending it to us in the mail or personally bringing it to the diving school!

Application form and insurance conditions here or you can register here online.